Management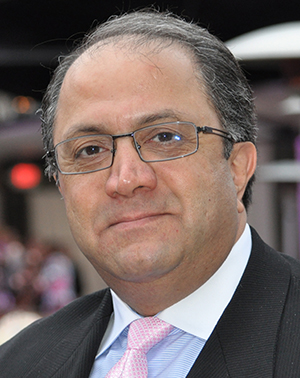 Edmond Rambod, PhD, EMBA – Chairman & CEO. Is a serial entrepreneur, an executive, a Doctor of Medicine and an accomplished inventor. Edmond has more than 16 years of proven executive background and management experience with focus on applications of technological innovations in medicine and creation of intrinsic value for the projects, companies and shareholders. Edmond's strength is in his multi-disciplinary knowledge and experience, discipline, effective management skills, persistence and systematic approach. He is the founder, current Chairman and CEO of Quantason, a California limited liability company, pioneering in the field of real-time, image-based, hybrid ultrasound and spectroscopy (IDUS™) for target acquisition and positioning. Quantason has perfected the principal implementation of IDUS™ for breast screening and cancer prevention. Under Edmond's management, Quantason grew rapidly to become a $40M startup. Previously, Edmond served as a senior scientist at the California Institute of technology (Caltech) and an advisor to major medical device and MedTech companies. Subsequently, he founded BioQuantetics, a California Corporation that developed the fundamentals of the dual-mode hybrid platform, conceptually transforming the use of traditional ultrasound for targeted image-based medicine, screening and diagnosis. Edmond has valuable industrial experience and previously served as the Chief Scientific Officer of a publically traded company, National Quality Care, Inc. (NASDAQ: NQCI), where he invented the core technology of extracorporeal renal and cardiac devices, sold to Fresenius Medical Care. Edmond is an expert on cardiac implantable devices and the inventor of several medical technologies and devices including image-based dynamic ultrasound spectrography (IDUS™), wearable artificial kidney (WAKTM) and wearable ultrafiltration device (WUDTM). He has successfully led and raised more than $75M capital investments for his projects and companies. He is the 1994 awardees of the prestigious Van Dyke Prize of the American Physical Society and co-author of fifty awarded and pending patents. Edmond has multidisciplinary scientific and medical knowledge, has published his work in leading scientific and medical Journals and has lectured in more than 100 national and International scientific, medical and business events. He obtained his engineering and medical degrees from the Technion-Israel Institute of Technology in Haifa, Israel and his executive MBA from UCLA-University of California, Anderson School of Management at Los Angeles.
Bel Air, California, USA.
Contact me at LinkedIn https://www.linkedin.com/in/edmondrambod1
Charles T. Moffitt – President & COO. Is widely regarded for his work as a management consultant and interim manager. Over nearly three decades, Mr. Moffitt has served as CEO, COO, or CFO in fourteen companies, combining skills in marketing, finance, strategic planning and personnel management. The common theme of his engagements has been to assist companies in transition, ranging from startups to well established enterprises in need of fresh perspective, to companies on the edge of insolvency seeking to find a way out. Along the way, Moffitt has served on nine boards of directors, arranged numerous equity and venture capital financings, and structured senior debt packages of up to $100 million. Revenues of companies with which Moffitt has been associated have ranged from several million dollars to nearly half a billion dollars. Mr. Moffitt has implemented a broad array of initiatives with emphasis on corporate strategy formulation, business transformation, marketing strategy, sales force efficiency and effectiveness, business process redesign, benchmarking, balance scorecard measurement systems, new product development, and technology strategy. Earlier in his career, Moffitt was a Vice President at Wells Fargo Bank where he managed major account relationships including Times Mirror, Southern California Edison and Mattel, in both the International and Los Angeles Metropolitan Divisions. Mr. Moffitt served for several years as Deputy Mayor of the City of Los Angeles directly responsible for policy guidance of twenty city departments with 18,000 personnel and budgets in excess of $5 billion. Earlier, as Special Assistant to the Majority Leadership of the U.S. House of Representatives, Moffitt assisted the Speaker and Majority Leader in planning and implementing legislative strategy. From 1967 to 1971, Moffitt held increasingly responsible posts as a Foreign Service Officer with the Department of State, serving as U.S. Consul in Recife, Brazil, and as Chief of Staff to the U.S. Ambassador to Brazil. A fourth generation Californian, Moffitt is proficient in Spanish and Portuguese. He is a graduate of UCLA, where he was chairman of the student Board of Governors. He earned his M.A. (Economics) at the University of Washington and pursued doctoral studies at the University of California, Berkeley. Mr. Moffitt has been active in numerous civic organizations, including service on the board of trustees of a religious institution, and a private school, both of which he served as Board Chair.
Beverly Hills, California, USA.

David V. Adams, Jr., MBA – Treasurer and CFO. Is an entrepreneur and a C-Level executive with proven operational, merger and acquisition, business consulting and real estate experience, who is comfortably working in fast-paced start-up and turnaround environments. David Adams, Jr. serves in several management capacities including a business consultancy with C.T. Moffitt & Company, the President of Mortgage Oil Corporation, the President of Laserod Technologies, LLC and a Director at Rivenrock Capital. Mr. Adams has 25 years of experience in financial management with investment focus in private equity and real estate. Previously, he served as CEO or CFO of six California based manufacturing, distribution and Internet businesses. His expertise are in operational management, financial analysis, strategic planning, turnaround consulting and marketing. Mr. Adams has extensive experience with manufacturing in China, continual process improvements and team building. He graduated with a Bachelor of Arts from the University of California at Los Angeles (UCLA, 1991) and earned a Masters in Business Administration from the University of Southern California (USC, 1997), graduated as a member of the Gamma Beta Sigma Honor Society.
Los Angeles, California, USA.
Ellen B. Mendelson, MD, FACR – Medical Director. Is Professor of Radiology at Feinberg School of Medicine, Northwestern University, Section Chief of Breast and Women's Imaging, Director of the Fellowship in Breast and Women's Imaging and the Lee F. Rogers Professor of Medical Education at Northwestern Memorial Hospital in Chicago. Her medical training, radiology residency and fellowship were all accomplished at Northwestern. Dr. Mendelson is active in the American College of Radiology where she is a member of the Breast Commission and chairs the Breast Economics Committee. She chaired the ACR committee that wrote the BI-RADS (Breast Imaging Reporting and Data System, 2003) for Ultrasound, currently in wide use, and chaired the committee that prepared and published the second edition of BI-RADS for Ultrasound. Her major research interests are in breast ultrasound diagnosis and adjunctive breast cancer screening with ultrasound. She was a co-investigator of ACRIN 6666, the multicenter study of comparing ultrasound with mammography for breast cancer detection in high risk women with dense breast tissue. She is principal investigator of a recently opened international multicenter study comparing breast lesion detection by physician performed handheld and automated ultrasound. Dr. Mendelson is widely published and an invited speaker nationally and internationally on breast imaging and imaging-guided interventional procedures. She is co-author of a textbook, "The Practice of Breast Ultrasound" published by Thieme in 2008. Dr. Mendelson is one of the organizers of the annually held education symposium, "The International Breast Course" at the University of Chicago. Dr. Mendelson is also on the faculty of IBUS, the International Breast Ultrasound School.
Chicago, Illinois, USA.

Daniel (Danny) Weihs, PhD – Member of the Steering Committee. Is Distinguished Professor (PhD, Technion, Haifa, Israel 1971) and currently serves as the Head of the Technion's Autonomous Systems and Robotics Program. Some of his extensive previous executive positions at the Technion include Provost, Dean of Aerospace Engineering, Dean of the Graduate School and Head of the Neaman Institute for National Policy Research. Professor Weihs has also served on several Israel's national and government organizations including Chairman of the Israel National Committee for Space Research and the Steering Committee of the Israel Space Agency. Most recently, he served as the Chief Scientist of the Israel Ministry of Science and Technology. Professor Weihs is a member of the Israel Academy of Sciences and Humanities (IASH), foreign member of the United States National Academy of Engineering (NAE), fellow of the American Physical Society (APS), the 2011 recipient of the Honorary Doctorate from the Ben-Gurion University, the 2015 awardee of the Israel Ministry of Defense (MOD) Creative Thinking Prize and the 2016 recipient of the Outstanding Contribution Award of the International Society of Bionic Engineering. Professor Weihs is also the Chairman of the Israel Interuniversity Marine Science Institute, a member of the Board of Directors at TEUZA-Fairchild Venture Capital and a member of the Advisory Board of the Global Drucker Management Forum. His main research interests are robotics, aerodynamics, bioengineering, space exploration and policy research. Professor Weihs has published over 160 scientific and engineering peer-reviewed articles, lectured in over 130 national and international events, has co-authored several issued and pending patents and is the awardee of one postage stamp.
Haifa, ISRAEL.